Prepping for an essay.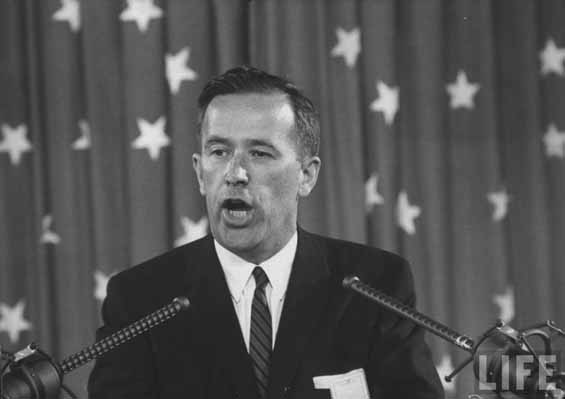 history commons:
http://www.historycommons.org/entity.js ... ry_jackson
wiki:
http://en.wikipedia.org/wiki/Henry_M._Jackson
Via:
http://www.seattlepi.com/news/article/P ... 111242.php
The road the U.S. traveled to Baghdad was paved by 'Scoop' Jackson

America's attack on Iraq started 65 years ago in the wooded curving inlets and gentle fog of Snohomish County.

At least that's one genealogy of the war, curling back through closed-door politics where so much of U.S. history happens.

Nineteen thirty-eight was the year Henry Martin Jackson, an ambitious 26-year-old Democrat from Everett fresh out of the University of Washington Law School, was elected prosecuting attorney for Snohomish County. As usual, few outside Washington state noticed the obscure local vote. But it launched a fateful political career, and ultimately led to the U.S. missiles, tanks and troops flung into Iraq last month.

Jackson rose rapidly from the Everett courthouse. Making a name for himself chasing bootleggers and gamblers, he shot on to Congress in 1940. He served five terms in the House, broken by a stint as a World War II GI, and by 1952, had gained the Senate, where "Scoop," as he was called, became a national force. A middle-of-the-road, pro-labor Democrat on domestic issues and an early champion of environmental causes, Jackson was chairman for nearly two decades of the Interior Committee (later Energy and Natural Resources) and sat on the Government Operations Committee and Joint Committee on Atomic Energy -- all major fiefdoms in dispensing federal money and wielding influence in politics and policy. One of Capitol Hill's more vigorous legislators, he was a main author and driving force of the legislation creating the Environmental Protection Agency, major wilderness preservation and other landmark acts.

With another local prosecutor raised to Senate power, King County's Warren Magnuson, Jackson also saw to it that generous appropriations and contracts were sluiced to his home state, especially the Puget Sound area. "Scoop" especially would be known scathingly in congressional corridors as the "Senator from Boeing" for being on-call to the corporate giant.

But it was in national security that Jackson's impact was deepest. The hawks' hawk, he was to the right of many in both parties. Not even the massive retaliation strategy and roving CIA interventions of the Eisenhower '50s were tough enough for him. Perched on the mighty Armed Services Committee as well as his other bases of power, he went on over the next decade to goad the Kennedy and Johnson administrations, urging the Vietnam War, fatter military budgets, stronger support of Israel in the Middle East and a more aggressive foreign policy in general.

It was then, 40 years ago, that Jackson began to be linked directly, if furtively, to some of the uglier and little-known origins of the war on Iraq in 2003. Overseeing the CIA's "black budget" for covert operations and interventions from a subcommittee of Armed Services, he was one of a handful of senators who gave a nod to two U.S.-backed coups in Iraq, one in 1963 and again in 1968. Those plots brought Saddam Hussein to power amid bloodbaths in which the CIA, exacting the price for its support, handed Saddam and his Baath Party cohorts lists of supposed anti-U.S. Iraqis to be killed.

The result was the systematic murder of several hundred and as many as several thousand people, in which Saddam himself participated. Whatever the toll, accounts agree that CIA killing lists comprised much of Iraq's young educated elite -- doctors, teachers, technicians, lawyers and other professionals as well as military officers and political figures -- Iraqis who would not be there to oppose Saddam's growing tyranny over ensuing years or to help rebuild or govern Iraq, as the United States now hopes to do, after the current war.

By 1969, Jackson was so prominent in military and national security affairs, and so at odds on those issues with many in his own party, that newly elected Republican Richard Nixon thought to name the Washington Democrat his secretary of defense, though the senator declined the job.

But Snohomish County's favorite son coveted the White House himself and was soon a sharp critic of Nixon's arms control and détente. Added to his cold warring was even greater zeal for Israel, a certainty that the United States should endorse the Israelis' own hard line -- absorbing the West Bank after its conquest in the 1967 Middle East War, the long-term subjugation of Palestine and an abiding hostility to Iraq and other Arab states.

As Jackson grew nationally prominent, he attracted the inevitable ambitious staffers and partisans boarding his coattails to advance both their own hawkish views and themselves. Among them was a recent graduate of the University of Southern California who was fanatic about amassing and projecting U.S. power, especially on behalf of Israel, and not least about his own strategic genius. The young New Yorker named Richard Perle became Jackson's chief assistant from 1969 to 1980.

I saw these origins firsthand working in the Senate in the early '70s after resigning from Henry Kissinger's National Security Council staff over the invasion of Cambodia. Seen from the inside, Jackson's Senate heft was considerable. Though a relatively small, unprepossessing figure as politicians go, he usually did his homework, could be incisive about important details his colleagues let slip and struck a shrewd balance between conviction and expedience. Much of his Capitol Hill power derived from his unique role, which he played well, as a northern Democrat with solid labor backing and other party credentials yet whose hard-line international view drew the support of many Republicans and the most conservative Southerners on either side of the aisle.

His belligerence also exerted (and still does) a kind of extortionist pull on liberal Democrats deathly afraid of appearing "weak" on national defense or in standing up to the Russians and anyone else. There was no question that "Scoop," from the mountains and straits of the far northwest corner of the continental United States, caught the unease and reflexive combativeness of much of America in dealing with a planet we knew so little despite our power. Still, in the '70s, a more worldly post-Vietnam moderation and sensibility in the leadership of both parties appeared to have passed Jackson by, leaving his chauvinism and foreign policy animus marginal, sometimes looking a bit crazed.

As for Perle, he was a pear-shaped, slightly fish-eyed man of self-consciously affected locution, the too-hungry, too-sly and too-toadying aide familiar in bureaucracies public and private. His views were patently uninformed, and he wore his conference-room warrior's zealotry no more gracefully than his expensive blue pinstriped suits. It seemed obvious that the bellicose policies he and Jackson embodied were not only wrong for America, but would also usher Israel into the ruinous isolation I and other admirers of its brave people most feared. "Scoop" & Co. would remain, I assumed, an extremist fringe. How wrong I was.

Jackson, of course, never got the White House. With big pro-Israeli money though stolid style, he lost the presidential nomination in 1976 to Jimmy Carter, who offered a fresh face in the national weariness in the wake of the Watergate scandal. But when Jackson died seven years later back in Everett, ending more than four decades on the national scene, he had spawned a cult following. There was always much less substantively than met the eye in the lavishly financed and much-propagandized neoconservative cabal taking power under President Reagan, and now again under George W. Bush. In any case, its throwback foreign policy was, and is, "Scoop" Jackson warmed over -- the red, white and blue, Israel-first, bombs-away dawn of an old era.

For his part, Perle missed a long-coveted chance to make presidential policy when Jackson stumbled in 1976. But the aide promptly moved on to the next coattails in classic, if banal, Washington, D.C., style. Relentlessly levering the system he learned under Jackson, he cultivated the media, courted politicians in both parties and used old allies in the politically potent pro-Israeli and military-industrial lobbies. By the Reagan '80s, he was an assistant secretary of defense, veteran of the now-venerated Jackson tradition of military expansion and a self-promoted strategist for a Republican president as comfortably as for a Democratic senator.

Whatever "Scoop" Jackson's mix of political principle and opportunism, Perle's politics were largely himself.

On the way up, Perle gathered his own disciples -- Deputy Secretary of Defense Paul Wolfowitz, Under-Secretary of Defense for Policy Douglas Feith and others who would go on themselves in similar fashion to become key officials in the current administration. Like Perle, who was appointed to chair the administration's influential Defense Policy Board, they're all longtime advocates, years before the Sept. 11 attacks, of pre-emptive American military invasions in Iraq and elsewhere and of implicit, if not open, support for the expansionist and repressive policies of their right-wing counterparts in Israel. By all accounts, their concerted influence was decisive in going to war in Iraq.

Grown wealthy in the revolving door between government and corporate plunder, Perle has drawn notoriety lately not only for his intimate ties to Israel but also for his connections to companies standing to profit obscenely from the war he's mongered. When Michigan Congressman John Conyers Jr. and Sen. Carl Levin began to prod Defense Secretary Donald Rumsfeld about the disreputable dealings, Perle angrily resigned March 27 from the chairmanship of the board, though he continues to sit as a full-fledged member of the pivotal body. Token resignation aside, it all reeks of the seedy conflict-of-interest "Scoop" once would have prosecuted in Snohomish County. But in the rest of their martial provincialism, Perle and his minions are Jackson's offspring.

By the way, Snohomish County's current prosecuting attorney, if you hadn't noticed, is a young woman named Janice Ellis. She seems dedicated to her job. But you can't tell where these county officials may go. Please let us know if Ellis begins to take an unusual interest in national security.
Via:
http://seattletimes.nwsource.com/html/l ... on12m.html
Scoop Jackson's protégés shaping Bush's foreign policy

WASHINGTON — As legacies go, few elected officials from the state cast a longer shadow than the late Sen. Henry "Scoop" Jackson, who served 31 years in the Senate and launched two unsuccessful presidential campaigns.

But exactly how the popular Democratic senator from Everett is remembered depends on which part of his career you focus on: his passion for conservation or his reputation as one of the most strident Cold Warriors of either political party.

These days, it's mostly the latter, to the chagrin of some of Jackson's more liberal supporters.

But it's easy to understand why Jackson's hawkish views are suddenly in vogue: Many of the young aides who were drawn to work for Jackson in the 1970s because of his unwavering opposition to the Soviet Union now help shape the Bush administration's foreign policy.

At one time, these Jackson Democrats advocated building more nuclear weapons in an effort to hobble world communism. Many have since joined the Republican Party and rally around new foreign-policy buzzwords: "regime change."

"There is no question in my mind that the people who supported Iraq are supporting Henry Jackson's instincts," said Jackson biographer Robert Kaufman, a political scientist at the University of Vermont.

Peter Jackson, the senator's son, said some admirers of his father's position on foreign policy forget Jackson's efforts to preserve wilderness and enact environmental policies.

And tying the senator's vision too closely with the war in Iraq makes his son uneasy.

"It doesn't make me feel comfortable if it (the Iraq war) is being cast as the natural extension of that legacy," Peter Jackson said.

The list of former Jackson staff members reads like a who's who of foreign-policy experts.

• Richard Perle is an adviser to the Defense Department and considered a major influence on Bush administration foreign policy.

• Doug Feith is undersecretary of defense for policy at the Pentagon.

• Elliott Abrams, special assistant to the president focusing on Middle East affairs, worked as special counsel to Jackson.

Paul Wolfowitz, deputy secretary of defense and one of Bush's Iraq policy experts, never served directly under Jackson. But they had a long relationship that began when Wolfowitz, then a 29-year-old graduate student, helped Jackson prepare charts when the senator wanted to persuade fellow lawmakers to fund an antiballistic-missile program in 1969.

Elected to Senate in '52

Born in Everett in 1912, Jackson was elected county prosecutor before winning a seat in the House of Representatives in 1940.

A visit to the Buchenwald concentration camp after World War II cemented his lifelong advocacy of Israel and other Jewish causes. In 1949, he argued for the development of the H-bomb.

He was elected to the U.S. Senate in 1952, and supported the troop buildup in Vietnam. In 1978, he fought President Carter's decision to forgo deployment of the neutron weapon, which could kill people while causing little damage to buildings and other structures.

By the 1970s, Jackson was one of the last Democratic Party standard-bearers of a get-tough approach to the Soviet Union.

When President Ford announced he would not invite dissident Alexander Solzhenitsyn to the White House in 1975 for fear of angering the Soviet Union, Jackson and a group of other senators asked Solzhenitsyn to speak at an office in the Capitol.

Such positions often placed Jackson at odds with members of his own party.

After the war in Vietnam, many prominent Democrats said the country's troubles abroad were caused by American belligerence and paranoia. Throughout the 1970s, Republicans wanted to control the Soviet Union through détente.

But Jackson opposed détente, never wavering from his belief that communism was inherently evil and needed to be confronted by American power. He attracted a group of like-minded people to work for him.

"I wanted to work for Scoop Jackson. He was the last Democrat who embodied the high tradition of internationalism," said Charles Horner, a former aide who is now a scholar at the Hudson Institute, a conservative think tank in Washington, D.C.

"Bush is the embodiment of that tradition," Horner added.

Jackson ran for president in 1972 and 1976 but didn't make it past the primaries.

Many former Jackson staff members became disillusioned with the Democratic Party during the Carter administration and later supported President Reagan. As a group, they were known as the "neoconservatives," or neocons.

When Reagan presented Jackson's widow, Helen, with a posthumous Medal of Freedom in 1984, he said: "I am deeply proud — as he would have been — to have Jackson Democrats serve in my administration. I am proud some of them have found a home here."

Twenty years later, many of those Jackson Democrats are credited with helping devise Bush's war on terrorism and invasion of Iraq.

"The Rumsfeld Defense Department is as close to Jackson as any publicly identifiable group," biographer Kaufman said. He remembers a Henry M. Jackson Foundation dinner in Washington, D.C., three years ago attended by Secretary of Defense Donald Rumsfeld, Perle, Abrams and Wolfowitz.

Perle and Jeanne Kirkpatrick, former U.N. ambassador under Reagan, serve on the board of the Seattle-based Jackson Foundation, which provides grants to nonprofits and educational institutes.

Former House Speaker Tom Foley, who also worked for Jackson, and longtime civic leader Jim Ellis are also board members, as are Peter Jackson and his mother.

The official biography on the foundation's Web site notes Sen. Jackson was "an expert on nuclear weapons and strategic issues." But it devotes more attention to his conservation legislation and efforts to preserve wilderness areas including the North Cascades Park, Olympic National Park and the Alpine Lakes Wilderness.

Peter Jackson said Kaufman's biography, "Henry M. Jackson — A Life in Politics" (University of Washington Press, 2000), gave short shrift to his father's environmental record and emphasized his foreign policy almost exclusively.

When reading early drafts of Kaufman's book, Peter Jackson said, he bristled at Kaufman's repeated use of the phrase "evil empire" to describe the senator's attitude toward the Soviet Union. The words belonged to Reagan, not to his father, Peter Jackson said.

But Peter Jackson said he supported the war to oust Saddam Hussein and often defends Perle to those in liberal circles who consider him "the Prince of Darkness" — a warmonger and profiteer.

What legacy?

Scoop Jackson's greatest legacy, said his son, may be his steady convictions and his belief that, in foreign policy, the best politics is no politics.

Trying to guess what Jackson would say today is useless, he said. But he added: "My father would never grandstand or question someone's patriotism. Since he died, the debate has become shriller."

After thinking about his father's legacy for a few days, Jackson, a former speechwriter for Gov. Gary Locke, e-mailed a final thought:

"Intellectually, neocons are children of a common father, but what can the father do after a lowly few race off and elope with Republicans? Most Dads would sigh, lament their kids' poor taste, but love them anyway."
Namebase Biblio
JACKSON HENRY MARTIN (SCOOP D-WA)
Barnet,R. Mueller,R. Global Reach. 1974 (224)
Bill,J. The Eagle and the Lion. 1988 (283, 285)
Cockburn,A.& L. Dangerous Liaison. 1991 (183, 187)
Codevilla,A. Informing Statecraft. 1992 (214)
Corn,D. Blond Ghost. 1994 (242-3)
Covert Action Information Bulletin 1985-#23 (16)
Covert Action Information Bulletin 1988-#30 (3)
Donner,F. The Age of Surveillance. 1981 (453)
Dye,T. Who's Running America? 1983 (111)
Executive Intelligence Review 1998-11-06 (57)
Finder,J. Red Carpet. 1983 (254, 262, 267-72)
Findley,P. They Dare to Speak Out. 1989 (159)
Fitzgerald,F. Way Out There in the Blue. 2000 (176)
Friedman,R. Red Mafiya. 2000 (12-3)
Goodwin,J. Brotherhood of Arms. 1985 (185)
Herman,E. Brodhead,F. Rise and Fall of Bulgarian Connection. 1986 (69)
Intelligence (Paris) 2002-12-16 (7)
Mackenzie,A. Secrets: The CIA's War at Home. 1997 (87)
Mangold,T. Goldberg,J. Plague Wars. 2000 (54)
Morgan,T. A Covert Life. 1999 (356, 358-9)
Nader,R. Taylor,W. The Big Boys. 1986 (460-1)
Nair,K. Devil and His Dart. 1986 (63)
Nikitin,V. The Ultras in the USA. 1981 (269-70)
Olmsted,K. Challenging the Secret Government. 1996 (158)
Prados,J. Keepers of the Keys. 1991 (92-5)
Rasor,D. The Pentagon Underground. 1985 (235-6)
Raviv,D. Melman,Y. Friends in Deed. 1994 (156-7, 264)
Sampson,A. The Seven Sisters. 1976 (322-5)
Schorr,D. Clearing the Air. 1978 (195)
Tarpley,W.G. Chaitkin,A. George Bush. 1992 (79)
Timmerman,K. Shakedown. 2002 (203)
Turner,W. Hoover's FBI. 1993 (39, 41)
Vistica,G. Fall From Glory. 1997 (173)
Washington Times 1997-02-13 (A21)
Willan,P. Puppetmasters. 1991 (221-2)
pages cited this search: 67