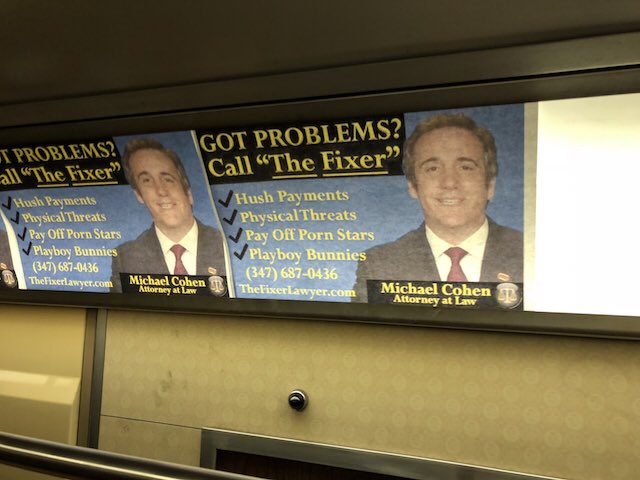 Trump lawyer Michael Cohen just made a disastrous move in Stormy Daniels case

By Grant Stern April 25, 2018

President Trump's personal lawyer just announced he intends to invoke his Fifth Amendment rights. Michael Cohen's plan to 'plead the 5th' appeared in a sworn statement begging a California court to halt civil court proceedings in the Stormy Daniels case.

In case you've forgotten, Donald Trump famously told his followers at a campaign rally that only the "mob takes the 5th Amendment." (video below)

Facebook's new algorithm changes have decimated the reach and the ad revenue of independent news sources like ours. Please become a patron of our news website and help us pay our writers by making a small contribution:

View our Patreon page >

Michael Cohen now has the dubious distinction of being the first member of the Trump inner circle – who hasn't already been convicted of a crime – to invoke the Fifth Amendment to avoid potentially making self-incriminating statements. Ironically, it comes in a defamation lawsuit filed by super lawyer Michael Avenatti, who Daniels hired after Cohen attacked her and called her a liar in the national media.

Daniels' lawsuit aims to get the court to invalidate her hush money deal altogether on the grounds that Michael Cohen violated federal election laws, which is just one of the potential criminal offenses Trump's lawyer is facing. That reality is Cohen's primary motive for his decision regarding his testimony, which he expressed in this sworn statement:

Michael Cohen's sworn statement pleading the 5th is a milestone moment. As Trump's fixer and keeper of secrets, he can't be convicted in court on the basis of invoking his rights, but it is still a tacit public admission of criminal wrongdoing.

Cohen's under investigation by the FBI and the Southern District of New York US Attorney's office for campaign finance violations, bank fraud, and wire fraud.

Stormy Daniels' lawyer issued this statement about Cohen's decision.

Stormy Daniels' complaint cites criminal wrongdoing as a legal reason to invalidate her hush money agreement with Trump since agreements must have a lawful purpose.

Cohen's invocation of the Fifth Amendment would seem to hand Stormy Daniels the point in her battle to ditch Trumps hush money deal. Moreover, one has to wonder if Trump's lawyer could face additional criminal charges under the Hobbs Act, a tough federal extortion law, if Daniels proves all of her allegations in court.

What makes Michael Cohen's precipitous fall more stunning is that it just doesn't make sense why he and/or President Trump believed that it was so important to keep his affair with Daniels secret by utilizing thuggish tactics so long after the last election.

Watch Trump's shameful comments about Michael Cohen here:

https://washingtonpress.com/2018/04/25/ ... iels-case/

Michael Avenatti

Mr. Trump and Mr. Cohen previously represented to the American people that Mr. Cohen acted on his own and Mr. Trump knew nothing about the agreement with my client, the $130k payment, etc. As I predicted, that has now been shown to be completely false. #basta

Thank you @foxandfriends for having Mr. Trump on this morning to discuss Michael Cohen and our case. Very informative.

https://www.youtube.com/watch?v=hMyh7ko9L2g
https://www.youtube.com/watch?v=_lu_Hgw60Ns
There you go: NY prosecutors cite Trump comments on Fox this am that Cohen did "a tiny, tiny little fraction" of his legal work as reason to expedite review of seized documents