To call this hyperbole would be too charitable.
First, let's reference a few excerpts from a recent Politico piece for a bit of needed perspective -- at least with respect to the last comment I quoted above:
Abortion remains legal or legal for now in 35 states.

Abortion is potentially illegal or soon to be illegal in 11 states.

Abortion is illegal in 5 states.

...But

it could take months for all the legal maneuvering to be completed and for the nation to have a more definitive picture over where abortion is legal

, said Greer Donley, a professor specializing in reproductive health care at the University of Pittsburgh Law School.

...

Only three states

— South Dakota, Louisiana and Kentucky —

have laws that immediately ban

most

abortions.

...
https://www.politico.com/news/2022/06/2 ... e-00037695
Another map (prior to the recent overturn) that provides perspectives from other countries -- I believe this one was already shared in another thread: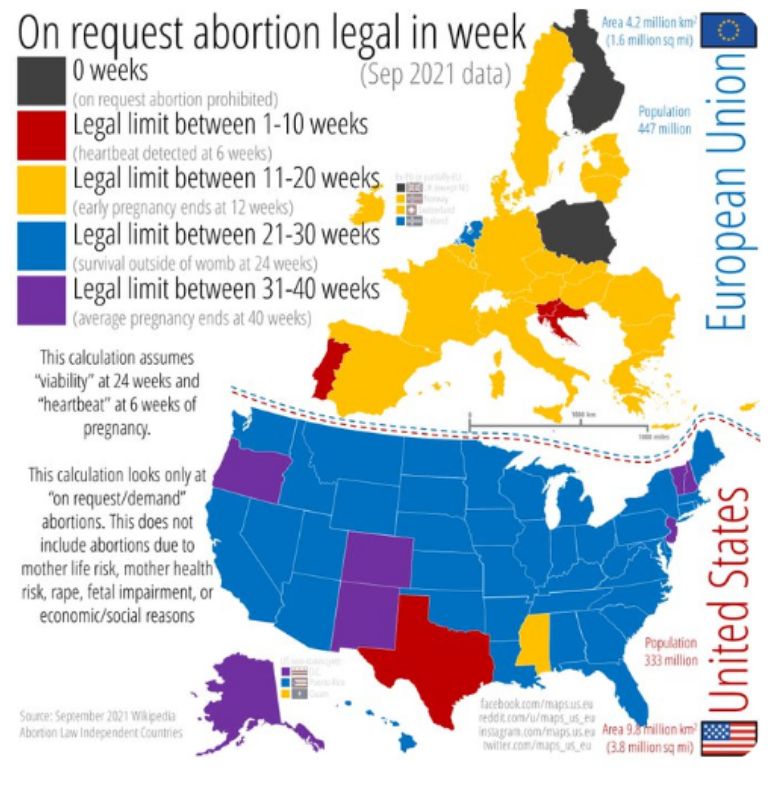 Some other more sober, contextual takes on the overturn news.
First, comments by 2
women
:
Madame Kempe

@MadameKempe

·

Jun 24

I'm going to give an alternative view here, from the pro-choice perspective — that Roe was in fact an instance of judicial overreach, and that these issues should have been decided democratically through the legislature, not through the courts ruling from on high.

Yvon Wang 王弋文

@yyvonwang Replying to @MadameKempe

I agree entirely (as did RBG years ago, iirc). And Dems deserve only critique for not summoning their energies to actually enshrine these protections--instead

using Roe as a kind of hostage for our votes.

2:27 PM · Jun 24, 2022·Twitter Web App
A noteworthy observation from elsewhere:
Date: 2022-06-26 02:51 pm (UTC)

From: [personal profile] dendroica

...

I and many others on this very forum have expressed abhorrence at the thought of mandated experimental injections while also believing in a woman's right to choose (subject to some limitations on later trimesters).

I don't think it's a simple explanation of people believing what they're told.

It's more of a matter of people aligning themselves with either of two dominant paradigms and narratives that have evolved into these positions over time.

So we have a Christian/religious worldview that has long been pro-life and that has had a history of conflict with the religion of Science (see e.g. the evolution/creation wars) that has led to a deep skepticism of the edicts of scientists.

And then we have a secular, Progress-centered worldview that regards any reference to theological belief as primitive and that believes in the almost magical power of Science to defeat the physical evil of contagion.

I think it's high time we develop alternatives to the two-party, two-narrative, two-paradigm system.
https://ecosophia.dreamwidth.org/187282 ... mt31437202
Some cogent commentary here:
https://fergie.substack.com/p/roe-rever ... s-as-usual
Roe Reversal is Business as Usual

Petit Bourgeois individualism, the unending narrowness of the American "Left," and the Death Cult called the "United States"

25th JUNE, 2022- Yesterday, a reactionary US Supreme Court, empowered by the refusal of the last 3 Democratic administrations to codify Roe V. Wade, and the old racist relic Ruth Bader Ginsberg clinging to her gavel until the Grim Reaper snatched it from her, predictably repealed the 1973 Roe V. Wade ruling, eliminating federal protection for legal abortion in the United States. When the dust settles, as many as 22 states could use this to effectively ban abortion.

In response, the loose coalition of liberal civil society in the US, a smattering of the largely white, college-educated petite bourgeoisie, Democratic elites in the Beltway and along the coasts, progressives, pink hats, mainstream media, and the aesthetic-first, anarchistic "Left" have unleashed a predictably performative flood of outrage which has taken on historic proportions.

Much of this is understandable, even correct, and much of it is so mired up its own rear end of decontextualized American idealism

that Justices Thomas and Kavanaugh wouldn't know how to squirm their way through.

Women's rights have been attacked again, no doubt, but watching liberals go into full meltdown once again over domestic social developments,

while our entire lives as US citizens have been dominated by murder, genocide, imperialism, land theft, wage theft, mass surveillance, imprisonment, and the evisceration of the planet is fairly unimpressive, frankly.

This is being heralded as the "rise of fascism," but this is America: we created fascism. This is the theatrical gamesmanship of an extant, bipartisan fascist beast, manufacturing yet again the illusion of struggle within bourgeois boundaries.

CHOICE IS IMPORTANT; EXISTENCE IS MORE IMPORTANT

It's unconscionable that in our collective political consciousness, the notion that "these women in X country/neighborhood are struggling to survive, and need access to abortion" supersedes the notion that "these women in X country/neighborhood shouldn't be struggling to survive."

but if only we could generate this much outrage for the total lack of public healthcare, childcare, preventative medicine, maternity leave, housing, or wealth redistribution that might make having a child, or not, a more deliberate decision for basically anyone.

Notwithstanding that

abortion/birth control *in its liberal form* in the US (I am in no way taking away from more principled, materialist efforts over the centuries) began as a eugenicist project by white feminists to control black populations, abortion, objectively is a traumatic and sometimes dangerous procedure.

Socialism is never idealism, it is the tool with which we address the material contradictions in our society, and so necessary abortion is available without question in a socialist society, because there is a human need for it, in many cases. What socialist states don't usually do, as

much of our culture has done, is fetishize abortion above all other causes, and idolize it,

because Socialism creates the material conditions wherein abortion becomes far less of a necessity, because resources and education lead to less unwanted pregnancy, and because economic security and public infrastructure make child-bearing and family planning viable for the masses.

In the United States, abortion, like the other morsels of bread sanctimoniously doled out to the people by the ruling class, became a holy grail because it's all you get. You may be stripped of the ability to choose where you live, where you work, how you exist, and what kind of family you want, but at least you can abort an unwanted pregnancy which might exacerbate the untenable conditions you're trying to live through. The scattered rights and freedoms we vaguely enjoy in the US are always concessions granted to our populace to ensure that the imperial order is not toppled, and nothing more. As much as the liberal elite wants to blame "religion" in a vacuum, none of these rights and concessions will ever mean a thing, and none of them will ever truly be legislated responsibly, not abortion, not housing, not food, as long as the capitalist class remains in power.

Of course, none of this is unsettling to the power brokers of

the Democratic Party, who never intended to settle the issue of Roe, because it has been their most valuable political currency for decades

. In an election cycle when democrats control the White House and congress, and the economy is in the gutter, headed by a president unable to form complete sentences, the opportunity to sing "God Bless America" on the capital steps and convert it into fundraising checks is a can't-miss for the DNC. All of this will mean nothing for the advancement of international working women's liberation,

but it may clear a few more shipments of heavy weaponry to Ukrainian fascists.

THIS IS FAR FROM OUR LOWEST POINT

The last 24 hours have included innumerable statements on "Left" social media and other layers of the "Left" public sphere saying, in one way or another, "I'm so horrified with what this country has become! This has gone too far!"

Really? When was it better?

In the 2010s, when we bombed 7 countries, illegally installed a fascist regime in Ukraine and armed their Nazi battalions, annihilated Libya, and tried to do the same in Syria?

In the 00s, when we killed 1 million Iraqis, let Wall Street off scott-free for robbing a generation of their livelihood, tried to destroy Venezuela, and suspended all due process for anyone a fed thought might be a "terrorist?"

In the 90s, when we passed the laws that created the worst incarceration state in human history, locked Haitian refugees in concentration camps in Florida, initiated broken windows policing, bombed Belgrade into oblivion, and illegally dismantled the USSR/Eastern Bloc, leaving economic and social wreckage which remains to this day?

Or maybe it was the 80s, when we shipped crack into the hood to create a drug war, armed right-wing death squads in Nicaragua, and ignored AIDS?

The 70s, when we were still in Vietnam, armed and trained Al-Qaeda in Afghanistan, and the FBI eliminated all meaningful political dissent for good by assassination, imprisonment or deportation?

Or did you mean the 60s, when we invaded Southeast Asia and waged war on man and nature for a decade, had a deeply co-opted Civil Rights movement which met violent resistance, before women's rights were even on the table?

No? Then the 50s? When we initiated an international nuclear arms race, committed genocide in Korea which left over 3 million dead, and built a culture of mass consumerism on a foundation of racism and patriarchy?

Why is *this* the breaking point for so many? Why are we so deeply lost in petit bourgeois individualism that nothing means anything until it could affect us ourselves, or our prevailing causes celebres?

The reaction of the white petite bourgeoisie to Roe and to Covid, two issues which could ostensibly affect they themselves, placed next to their total indifference to global and domestic rape and plunder for generations, tells us all we need to know about who is on the side of humanity on earth. "Keep your hands off MY body" is a war-cry which is far more appealing to the American bourgeois mindset than "keep your troops out of our country," "keep your cops out of our streets," or "keep your hands off of our means to survival and the fruits of our labor."

The United States has always been a hyper-individualist death cult. It is a society built for the wealthy few, and those they deem useful. Political education, activism, the non-profit world, and mass media are all reflective of this reality.

If we are to attain anything resembling justice for women in the United States, and women who are the victims of US imperialism abroad, it will be because our collective disillusionment reaches such a peak that a revolutionary party rises from the ashes of the American dream that never was.

What to do?

Pessimism is understandably strong amongst the infinitesimal ranks of a principled American Left

, and so if the opportunity presents itself, the instinct to leave this burning ship and build the power to bring it down elsewhere on earth, makes sense. But even then, something must rise from the ashes.

For those with the patience, it's more time than ever to build popular, organized power in the United States. Whether this will happen within CPUSA, PSL, the left-wing of DSA, complete with their countless contradictions and shortcomings, or whether it will come with the simple empowerment of class consciousness and broadening of community self-defense (which includes measure for safe access to abortion) outside of the influence of the Democratic Party entirely, and the creation of an entity which has yet to be, remains to be seen.

But make no mistake,

our allies in this fight are not in liberal arts institutions, they're not on "Decolonization" panels, they're not staffing NGOs, and most of all, they started shedding tears of outrage at America's crimes long before their right to have an abortion in a state they've never been to was ever threatened.
And another:
https://off-guardian.org/2022/06/24/is- ... -abortion/
Is "Roe v. Wade" REALLY about abortion?

Kit Knightly

A few hours ago the Supreme Court of United States (SCOTUS) confirmed their ruling overturning Roe v. Wade, the case which set the precedent for abortion as a human right in the US back in the 1970s.

As soon as this decision was first "leaked" a few months ago it became the trending topic all across the US and to a certain extent the rest of the anglosphere. Since it was confirmed this afternoon, the already supercharged dialogue has reached new heights.

Pro-choice pundits, politicians and celebrities have been flooding the cyber public square with comparisons to the Handmaid's Tale and other forced memes.

They argue abortion-on-demand is a fundamental right, and take up the rather unsettling position that having an abortion is a point of pride.

On the other side of the divide Christians, traditionalists and republican politicians argue for the sanctity of all life,

regardless of context or complication.

Both sides are entrenched to the point of hysteria, and not really looking like budging.

As with most things, the reasonable ground is somewhere in the middle.

Regardless of the law, women will sometimes seek out abortions, and

it's probably best they have access to safe, clean places to do so. That said, the use of abortions as a form of contraception is both obscene and impractical, and aborting viable mid or late term babies is revolting – both in concept, and in practice.

None of that really matters though, because the Roe v Wade finding isn't even about abortion, it's about Federal overreach. The Justices made that clear.

Though it has gotten lost in 250 years of ever-expanding centralization, the USA originated as a loose federation of quasi-independent states, with the central federal government having strictly limited powers to overrule local legislation.

Simply put, the Constitution lays out all the powers of the federal government, and anything not specifically mentioned therein is de facto a matter for states on an individual basis.

For decades federal governments used SCOTUS decisions to get around these limitations, relying on precedents rather than actual legislation in order to control state laws from Washington DC.

Roe v Wade is a classic example of this, and reversing it changes only one thing: abortion law will revert to a state-level matter, not a federal one.

…but is it even really just about that?

On a deeper level, there seems to be a prolonged campaign in place to violently divide the United States, perhaps to the point of outright civil war.


From Black Lives Matter to January 6th, the 2nd amendment to Roe v Wade, there is an increasing supply of hot-button issues accompanied by a deluge of divisive rhetoric.

Both sides are being encouraged to take to the streets, protest, mock, yell and scream without any search for common ground.

The office of the Presidency is degraded more every term, with a crass blowhard followed by a jittering dementia patient.

Some states are even openly talking about seceding.

At the end of the Cold War, Russia was economically raped and globally humiliated. It came within inches of shattering into a dozen or more failed states. As the big money players head East, and the hegemonic powers turn from the US Empire to a new globalist powerbase, you have to wonder if the US is destined for the same fate.

Just as the USSR had to fail, and be seen to fail pour encourager les autres, perhaps the US – with its history of individualism and personal liberty – is considered surplus to requirements in the new age of faux collectivism.

Whatever America became at its Imperial zenith, its constitutional foundation has always arguably been the most egalitarian on Earth. Could it be that those ideas enshrined in the Bill of Rights are considered an impediment to the "progressive" New World Order?

The US falling into failed statehood could even act as a moral lesson to the rest of the world, and be held up as a warning about what can happen when "liberty is taken too far", or when people are allowed to "selfishly put their own rights ahead of the public good".

Perhaps the US being torn apart – or encouraged to tear itself apart – is key to bringing about the next stage of the great reset.

One thing is for sure, no matter the endgame, US politics are dry tinder piled high, waiting for a spark.