Via:
https://www.washingtonpost.com/news/the ... -honestly/
Typically, we use this space to debunk the various hoaxes, charades and conspiracy theories that afflict social media each week. But this week, I can't do it. I must abstain. Because someone's done a study on debunk efforts like this one, and bottom line? They're all in vain.

To reach this heart-rending conclusion, Walter Quattrociocchi — the head of the Laboratory of Computational Social Science at IMT Lucca — and a team of seven (!) other researchers studied how two groups of U.S. Facebook users interacted with news on the site. One group was comprised of people who interact with reputable science pages. (Those are the ones who presumably have a level of news literacy.) The other group was made of people who like far-out conspiracy pages — anti-vaxxers, Illuminati-watchers, that kind of thing.

They quickly came to two conclusions about the conspiracy and non-conspiracy groups. First off: They didn't overlap at all, which means the misinformed, as we'll politely call them, were unlikely to ever see the truth. And second, when the conspiracy group did encounter "debunking" information, it didn't change their mind. In fact, it just made them more resolute: After encountering a post that challenged a conspiracy theory, theorists tend to like and comment on pages about that theory even more.
Which is, of course,
not exactly news to social science
so it is surprising this would hit the author like some kind of revelation. Anyways...
This is … depressing, frankly! And not merely because I've sunk 76 almost-consecutive weeks into this column. It's also depressing because, with debunks or without them, Quattrociocchi expects hoaxes and conspiracy theories to grow more common. When you break them down into their composite parts, these hoaxes are just some mix of bias, functional illiteracy, and institutional mistrust – not exactly quick-fix problems.

They're only heightened by the sheer amount of information on the Internet, and the pace at which new information comes out: Simply put, no one has the time or cognitive capacity to reason all the apparent nuances and discrepancies out.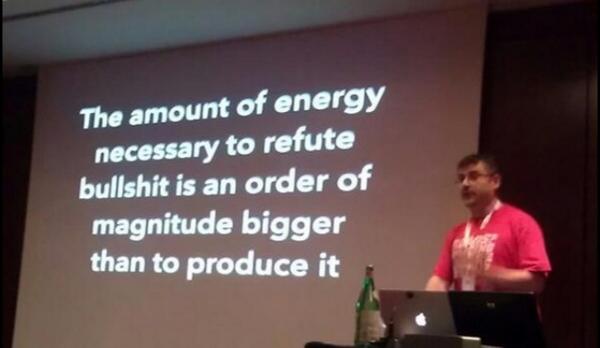 "Facebook and Twitter have created a direct path of content from producers to consumers, changing the way users become informed, debate ideas, and shape their worldviews," Quattrociocchi et al. write. "This scenario might foster confusion about causations regarding global and social issues and thus encourage paranoia based on false rumors."

Can confirm: That is indeed happening! And apparently, debunking them doesn't do a darn thing.
All Hail Pepe the King.
2015 has definitely been The Year of The LULZ.
I'll let WSB wrap this up:
By playing back my recordings to the Moka Bar when I want and with any changes I wish to make in recordings, I become God for this locale. I affect them. They cannot affect me.

Suppose, for example, that in the interest of national security, your bathroom and bedroom are bugged and rigged with hidden infrared cameras. These pictures and recordings give access. You may not experience shame during defecation and intercourse, but you may well experience shame when these recordings are played back to a disapproving audience. Shame is playback: exposure to disapproval.

Now let us consider the arena of politics and the applications of bugging in this area. Of course, any number of recordings are immediately available since politicians make speeches on TV. These recordings, however, do not give access. The man who is making a speech is not really there. Consequently, intimate or at least private recordings are needed, which is why the Watergate conspirators found it necessary to resort to burglary.

A Presidential candidate is not a sitting duck like the Moka Bar. He can make any number of recordings of his opponents . So the game is complex and competitive, with recordings made by both sides. This leads to more sophisticated techniques, the details of which have yet to come out.

The basic operation of recording, pictures, more pictures, and playback can be carried out by anyone with a recorder and a camera.

Any number can play.

Millions of people carrying out this basic operation could nullify the control system which those who are behind Watergate and Nixon are attempting to impose. Like all control systems, it depends on maintaining a monopoly position. If anybody can be tape recorder three, then tape recorder three loses power. God must be the God.