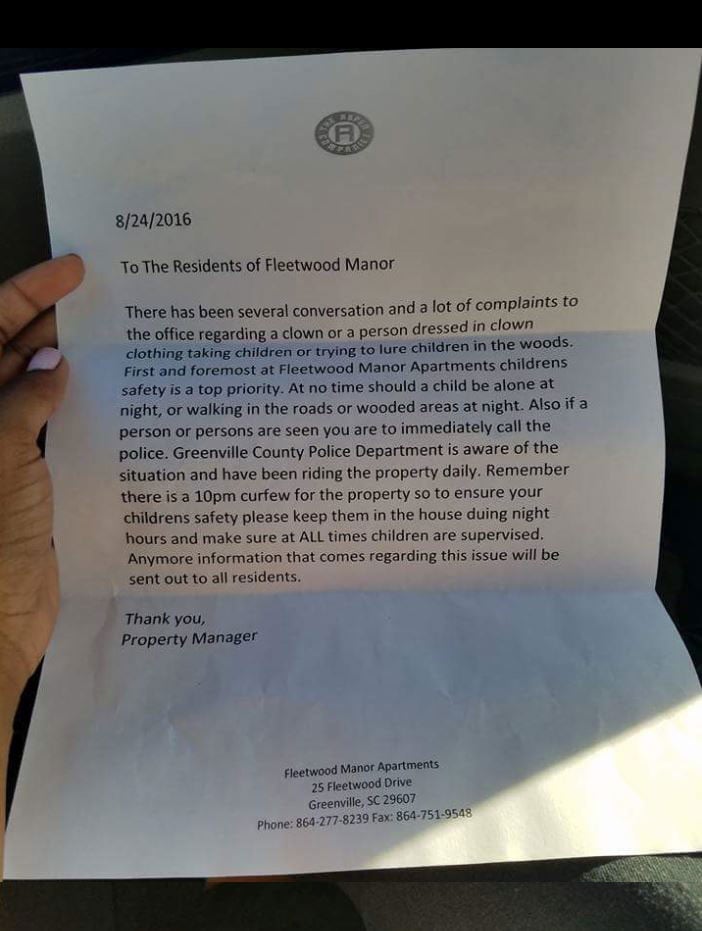 GREENVILLE, SC (FOX Carolina)

A note some Greenville County residents found on their apartment doors has them concerned for the safety of their neighborhood.

Residents at Fleetwood Manor Apartments on Fleetwood Drive reportedly received letters on Wednesday stating the property management has received complaints of a person dressed as a clown trying to "lure children into the woods."

The letter, which appears to be printed on Fleetwood Manor Apartments letterhead, reminds the public children should never be alone or walking through the woods at night.

The property management in the letter indicates Greenville County law enforcement is conducting daily patrols of the property due to the reports.

Donna Arnold, one of the people residing at the complex who received the letter, said she called the Greenville County Sheriff's Office to come out to Fleetwood Manor after her son and others reported seeing clowns behind the basketball court.

"I thought my child was seeing things,"

Arnold said.

"And then the next day I had about 30 kids come up to me and say, 'Did you see the clown in the woods?"

Community activist Bruce Wilson said he is getting involved at the apartments to make sure children are safe, even if the sightings turn out to be harmless.

"We have about two to three hundred children out here,"

Wilson said.

"I want to make sure that law enforcement is doing the right thing."

Deputies confirmed Monday they were called to the apartment complex on Aug. 21 to investigate after residents reported seeing

"a suspicious character, dressed in circus clown attire and white face paint, enticing kids to follow him/her into the woods."

Investigative reports state police met with a mother, whose name was redacted, who witnessed the clowns in the woods after her son notified her of their presence. The woman told deputies the clowns were shining green laser lights in the woods.

Another resident also reported seeing a "large-figured clown with a blinking nose" standing under a streetlight near the trash dumpsters.

Deputies spoke with children who told them clowns tried "to persuade them into the woods further by displaying large amounts of money." The children advised they believed the clowns lived in an old house near a pond, accessible via a trial behind the apartment complex.

The house near the pond was located, but deputies said they found no signs of suspicious activity or clowns.

According to the investigative report, deputies also received

two prior calls about clowns in the area

and

one call about gunshots being fired at clowns.
http://www.foxcarolina.com/story/32852558/residents-anxious-after-clown-sightings-letters-received-at-greenville-co-apartments