today's testimony
do you think Stone just got lucky with his self-promoting bullshit timing when he called trump to tell him about the emails? pretty good guess I guess just a couple days later
RELEVANCE
I've posted this before I can not help that you don't believe it
following the evidence from the Russian side of the investigation led the Special Counsel's Office to Roger Stone
The SCO says evidence in Roger Stone's case was found in accounts that were searched for the GRU case, in which 11 Russian military officers were charged with a conspiracy to interfere in the election.
In other words, following the evidence from the Russian side of the investigation led the Special Counsel's Office to Roger Stone. Consider the implications of that.
For another, it includes the first SCO confirmation of @NatashaBertrand's report that Stone communicated directly with Assange. It also firmly ties Stone to paragraph 44 of the Netyshko indictment, which quoted his DMs with Guccifer 2.0 but didn't name him.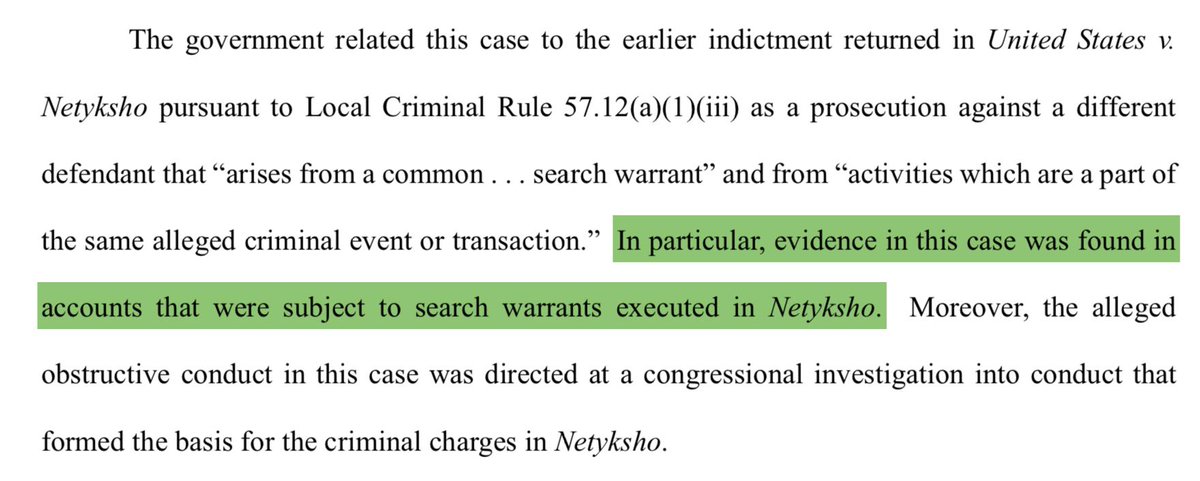 seemslikeadream » Fri Feb 15, 2019 6:35 pm

wrote:

Brad Heath

‏

Mueller's office says in a new court filing that investigators executed search warrants on accounts used to "facilitate the transfer of stolen documents for release" and several included communications with Roger Stone.

‏

Mueller's office says the charges against Roger Stone "are part of the same alleged criminal event or transaction" as the ones it filed against Russian intelligence officers for hacking Democratic political organizations.

https://twitter.com/bradheath/status/10 ... 3952496640

Special counsel prosecutors say they have communications of Stone with WikiLeaks

Washington (CNN)Prosecutors said for the first time that they have evidence of Roger Stone communicating with WikiLeaks, according to a new court filing from special counsel prosecutors.

During its investigation of the Russian hack of the Democrats, "the government obtained and executed dozens of search warrants on various accounts used to facilitate the transfer of stolen documents for release, as well as to discuss the timing and promotion of their release," the prosecutors wrote Friday to a federal judge.

"Several of those search warrants were executed on accounts that contained Stone's communications with Guccifer 2.0 and with Organization 1," which is WikiLeaks.

Previously, the prosecutors had only outlined how Stone attempted to get in touch with WikiLeaks' Julian Assange through intermediaries. Stone sought to learn about what the hackers had stolen from the Democratic Party and how he hoped for its release so it could help Donald Trump's campaign, prosecutors have said.

The new filing provided no further details on what was contained in the communications.

There is one known exchange of messages between WikiLeaks and Stone. In February 2018, the Atlantic reported the Stone exchanged direct messages via Twitter with the WikiLeaks account in which Stone was asked to stop associating himself with the site. Both denied they were in contact about the release of Clinton emails.

The prosecutors have not yet explained in full the extent to which Stone actually reached WikiLeaks or Assange, or levied public charges against them for their role in the distribution of the hacked data.

Friday's filing is the strongest detail yet provided by the prosecutors that Stone and WikiLeaks were in touch.

Prosecutors stated that in obtaining the accounts, they found communications between Stone and WikiLeaks, which is only described as Organization 1, as well as Guccifer 2.0 which is the alias used by Russian intelligence to disseminate the documents.

Stone and his legal team will have access to these search warrants as they review evidence in the case to prepare for his trial. He has pleaded not guilty to charges of witness tampering, obstruction of justice and lying.

Case will not be reassigned

Judge Amy Berman Jackson on Friday denied Stone's attempt to get a new judge in his case, by alleging that his charges are unrelated to a case about the Russian hack of the Democrats. Prosecutors say they are indeed related, partly because they both hinge on some of the same search warrants.

Gag order

Jackson also placed a gag order on Stone and attorneys involved in his criminal case, though Stone's ability to speak publicly isn't completely restricted.

Lawyers "for the parties and the witnesses must refrain from making statements to the media or in public settings that pose a substantial likelihood of material prejudice to this case," Jackson wrote.

They, their clients and even Stone are also not allowed to speak in and around the courthouse.

https://www.cnn.com/2019/02/15/politics ... index.html