Revenant Limbs
New Drawings and Paintings
October 6 – 30, 2011
Reception: First Thursday, October 6, 6 – 9 pm

Trabant
602 Second Ave
Seattle, 98104
Open weekdays 6:30am – 6pm
Weekends 9:00am – 5:00pm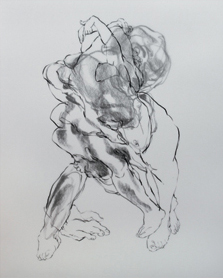 Sheila & George Colored pencil on layered drafting film 10 x 8 inches 2011
Curator: Willow Fox.
Revenant means one that returns after death or long absence. In this latest series of figurative works, Lynn Schirmer focuses on the process of reconnecting with and re-inhabiting her limbs after long dissociation.
Schirmer says:
"The way we move our bodies, our limbs, is loaded with subtle communication. You can see the product of love in the movement of a hand; you can detect it by a lack of hesitation, unselfconscious spontaneity, and the degree of celebrated idiosyncrasy. Likewise, subtly hesitant or restricted movement can denote weakness, fear, or insecure beginnings."
This was not quite finished when I shot it last, there are more faces and toes now.
"Revenant", oil on canvas, 57 x 81"